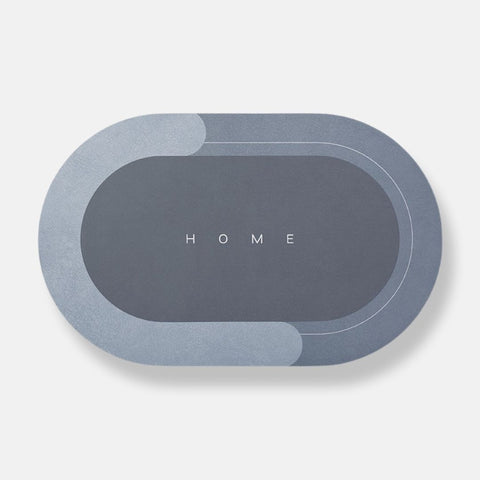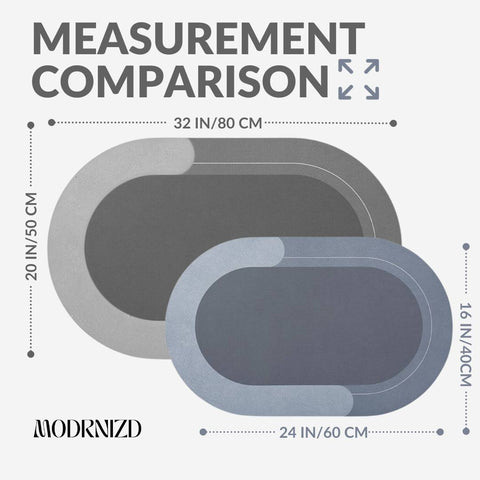 The Magic Mat™
Small: 40cm x 60cm / 15.7in x 23.6in
Regular: 50cm x 80cm / 19.7in x 31.5in
The Magic Mat™ is the ultimate quick dry bath mat that effectively absorbs water, keeping your floors dry, safe and looking amazing! 

Its unique multi-layered design quickly traps, absorbs, and dries moisture. No more having to deal with gross, soggy bath mats - The Magic Mat™ has you covered!
Shop worry-free with our 30 Day Money-Back Guarantee!
KEEPS FLOORS CLEAN, DRY & SAFE
The Magic Mat™ absorbs water before it's spread all over the bathroom floor - no more hazardous trails of water throughout the house! Not only does it absorb water quickly but it also dries fast, so you can say goodbye to gross, soggy bath mats once and for all! 
STAYS CLEAN, FRESH & ODORLESS
Traditional bath mats collect and hold dirt and bacteria, and never fully dry out which causes them to smell and mildew. The MagicMat™ is built with Quick Dry Technology, which can help prevent any mold, mildew, or unpleasant odor. Plus, the Magic Mat ™ is super easy to wash! For washing instructions click here.
PREVENTS SLIPPING
Designed with a non-slip bottom that grips any floor, the Magic Mat™ sticks flat to the floor and can be counted on to not slide around, fold, crumple or bunch up like traditional bath mats.
PERFECT FOR ANYWHERE IN THE HOUSE
The Magic Mat™ is not just a bath mat.. It's the perfect all around mat that can be used anywhere in the house! Great for the front entrance, back entrance, bathroom, balcony door, kitchen, you name it!
ULTRA SOFT & COMPACT
Made with a soft, spongy material, the Magic Mat™ feels great on the feet! Its compact, sleek design ensures it will fit under any standard door without getting caught, snagged or jammed.
HOW IT WORKS:
The secret behind the Magic Mat™ is its multi-layer design. 
The surface layer traps moisture and allows it to pass through to the absorbent sponge layer. 

Once accumulated in the sponge layer, water evaporates due to the

open-cell structure which allows air to pass through the material. 

The third layer consists of soft quick dry foam; this is what makes The Magic Mat so soft and squishy! 

The non-slip rubber bottom ensures the Magic Mat will always stay in place, unlike standard cotton bath mats which commonly slide around.

Dimensions
Magic Mat:
Small: 40cm x 60cm / 15.7in x 23.6in
Regular: 50cm x 80cm / 19.7in x 31.5in
Modrn Kitchen Mat:
Small: 45cm x 75cm / 17.in x 29.5in
Regular: 45cm x 120cm / 17.in x 47.2in
Large: 45cm x 150cm / 17.7In x 59.1in
Stick-N-Stay Shower Mat:
One Size: 40cm x 100cm / 16in x 40in
AquaMat:
Small: 40cm x 60cm / 15.7in x 23.6in
Regular: 50cm x 80cm / 19.7in x 31.5in
Large: 60cm x 90cm / 23.6in x 35.43in
Money-Back Guarantee
Try our products completely risk free for 30 days and if you don't like it return it for your money back. No questions asked.
For more on our refund policy click here.
Shipping & Delivery
USA & Canada: 7-18 days
Europe: 7-18 days
Europe Plus*: 8-30 days
Australia, New Zealand: 7-18 days
Hong Kong, Singapore: 7-18 days
Latin America: 8-30 days
Rest of the world: 8-30 days

*does not include processing times up to 3 business days or longer in peak periods
FAQ
For our Magic Mat FAQ click here.
For our General FAQ click here.
Q: How do I clean the Magic Mat?
A: For surface cleans, simply wipe the mat clean with a damp towel or cloth. For deep cleans, use your favorite light cleaning spray / detergent or soap, scrub with a soft brush, then rinse thoroughly with warm water and hang dry.
Q: How thick is the Magic Mat?
It has a slim profile, measuring less than 5mm in thickness. This allows it to slide beneath the nearly all doors, and are no problem for robot vacuums, wheelchairs, and knee rovers.
Q: How many Magic Mats do I need?
A: One mat per bathroom will do! If you'd like a new and stylish mat for the front entrance, or have a patio and/or balcony then a couple more might come in handy - it all depends on the layout of your home!
Q: What if I don't like a product?
A: We have an industry-leading 30 day money-back guarantee. If you're not 100% satisfied with your order, let us know within 30 days of delivery and we'll sort you out!
Q: Who is the Magic Mat for?
A: Great for anyone who's tired of dealing with gross, smelly bath mats sliding around and never fully drying out. It's the perfect addition to any home and makes a nice gift for friends & family.
Q: What size Magic Mat should I get?
A: The Magic Mat comes in two different sizes (see dimensions listed above). Both sizes work for all, but we'd recommend getting the regular size for front entrances, patios, kitchens and bathrooms, and the small size for small bathrooms and door ways.
Q: Do you have a bigger mat for the kitchen?
A: Yes! To shop our new Modrn Kitchen Mats click here.
Unanswered questions about our Magic Mat? Check out our full Magic Mat FAQ by clicking here.